Bedford Film Festival and Bedfringe team up for documentary delight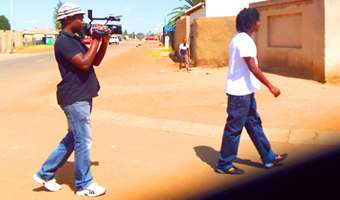 We love film and we love fringe and to continue our strong relationship with Bedfringe, we've teamed up with them again to bring Bedford another superb documentary.
Songs from Soweto: An A Capella Journey is a fascinating documentary charting the remarkable journey of five a cappella singers from one of South Africa's most notorious townships to the famous Edinburgh Fringe.
Simply Soweto Encha share experiences of post-apartheid generations of Soweto where old shack misery meets new opportunities, prosperity and hope. Sponsored by the British High Commission, Pretoria.
The screening of the film (co-produced and co-directed by Just Festival Edinburgh and Simply Soweto Encha) will be followed by a Q&A session with the group members as well as a 'bite-sized' performance from their touring show which can be seen in its entirety during this year's festival.
We're really excited that this film, along with the group, is coming to Bedford. It's a fantastic opportunity to see an incredible documentary and then speak to the stars of the film face to face.
Tickets are only £5 and the film is being shown at The Ent Shed, Castle Road at 17:30 on 11th July 2014.
For booking and more information, please visit We Got Tickets.