Bedford Film Making Co-operative's 48 Hour Challenge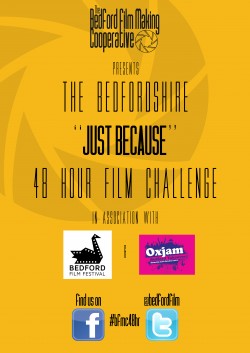 Now this is what we're talking about! Future film makers being nurtured right here in Bedford. The town's film making co-operative will not be new to some of you but they're making big waves in the film making world, and we're delighted to be supporting their 48 hour film making challenge – which gives you a chance to have your film screened at Bedford Film Festival in September 2014. If you're interested in being a film maker, Bedford Film Making Co-operative is a group you should be connecting with, and we've asked their very own, Rhiannon Cooper to explain why…
The Bedford Filmmaking Co-operative started as a simple Facebook page in which to network with other filmmakers and actors, but for others and myself it turned into something much more caves around the coast. The BFMC is now a production company. We work on all sorts of video projects such as music videos and corporate video, but what we love to do most is make short films. We have made four short films over the last year, all produced in 48 hours, from concept to completion. Two were for the London Sci Fi Film challenge, one was part of the Rough Cut Sessions and the most recent made for the MCM London Comic Con Film race; Social Reboot.
Social Reboot – MCM London Comic Con Film Race 2014 from Rhiannon Cooper on Vimeo.
Social Reboot has been short-listed in the top 10 and will be screened at Comic Con on May 25th; we are very excited!
We were also proud of our recent London sci-fi entry The Comment.
The Comment from Matt Brownsett on Vimeo.
There is a certain thrill that comes from producing a film in only 48 hours, and once you start you are dedicated to the end. I'm sure if any filmmakers are reading this they will know that projects often fall through. But with a simple concept of putting aside one weekend to make a film, falling through is not an option.
So we have created The Bedfordshire 'Just Because' 48 hour film challenge is here.
If you are a filmmaker, a media student or simply want to give it a go then this challenge is for you. And to help you come up with your idea, you will be given a genre, a prop and a line of dialogue that you must use in your film. For further community involvement we are asking the public to suggest props and lines of dialogue! If you want to make suggestions like our Facebook page and join our Facebook group. And if you are unsure about being able to get a team together join The Bedford Filmmaking Co-operative group and find like minded people . You can also email justbecause48hourfilmchallenge@gmail.com and follow us on Twitter @Bedfordfilm.
It sounds like hard work, and it is, but it is also exciting and worth every minute, because at the end you can say "I made a film this weekend…just because".
Bedford Film Festival will be screening their favourite in September, as well as Bedford Oxjam screening all films in October.
Rhiannon Coopper represents Bedford Film Making Co-operative.