Bedford Film Festival and Happiness Matters bring smiles to town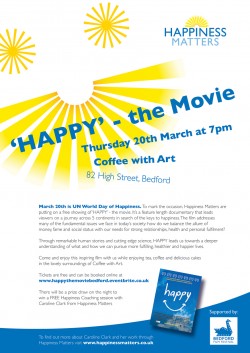 Bedford Film Festival is keen to support film screenings for other Bedford based groups. So, we're delighted that Caroline Clark of Happiness Matters has included to screen the documentary 'Happy' to celebrate UN World Day of Happiness. We asked Caroline to tell us a bit more…
In July 2012, the United Nations established March 20 as UN World Day of Happiness. This annual event is designed to help us all take time out to focus on our happiness.
Being happy is a goal for most of us. Yet we spend very little time or effort understanding what will contribute to our happiness or doing anything to directly enhance it. Think for a minute about how much time and effort you dedicate to your health and fitness, whether that's reading about it, discussing it, planning it or taking action. Then compare that to how much time you have spent recently doing the same things in relation to your overall happiness. It's likely that happiness will be poor relative in that comparison.
Much like our health and fitness we can take positive action to improve our levels of happiness. We just need to know what we are looking for and how to go about it. Science shows us that we while 50% of our happiness level is set by our genes, just 10% is affected by our personal circumstances. That leaves a potential 40% within our control to influence through our thoughts, language and behaviour.
So, in honour of World Day of Happiness, and in collaboration with Bedford Film Festival, Happiness Matters are showing a FREE screening of 'Happy – The Movie' on Thursday March 20 from 7pm at Coffer with Art on the High Street.
As an introduction to the science of happiness, you can't do much better than watching 'Happy – The Movie'. It's an inspiring
feature-length documentary
that
leads
viewers on
a
journey across
five
continents in
search
of the
keys
to
happiness.
 The
film leads
us
toward a
deeper understanding
of
why
and
how
we
can
pursue
more
fulfilling, healthier and happier lives as well as looking at the
fundamental issues
we
face
in
today's
society, how
do we
balance
the
allure
of
money, fame and social status
with
our
needs
for strong
relationships, health
and
personal
fulfilment?
Coffee with Art will have their full selection of coffees, teas and cakes available for you to buy before the film and during the interval.
While the screening is free, spaces are limited, so you'll need a ticket which can be booked here.
To help keep the happiness flowing, Happiness Matters are running two further events for World Happiness Day on Saturday March 22 in the Harpur Suite.
From 11am to 3pm, Bedford Happiness Experience brings together happiness inducing activities such as art, music, dance, singing, poetry, games, laughter yoga, acts of kindness and mindfulness in one room at the same time. It will be an interactive experience and is suitable for adults and children of all ages. Free admission.
In the evening, from 7.30pm, the Happiness Matters Ceilidh features local ceilidh band Bricks and Brussels. Don't worry if you have never experienced this kind of dancing fun before, there is a caller who explains what to do and the idea is to laugh as much as dance. Tickets are £10 for adults and £5 for children under 14 and are available from Bedford Corn Exchange or direct from Happiness Matters.
I'm really looking forward to the events, I hope you can join in too. If you have any questions, please do get in touch.
Caroline Clark is a personal and business coach and happiness enthusiast.